Integrated Service Business
The integrated service industry of CSGI focuses on the investment and development of the Real Estate business of CSGI. As the subsidiary company of Shougang Group, Beijing Shougang Hotel Development Co., Ltd had invested and developed the first foreign-related and high-end apartment in Beijing—Donghu Villa, as well as Shougang International Building, the property of Haiyunxuan, Yuanyangfengjing, Jinhui Homeland, Xiqing Apartment and other projects. It also runs Multiple types of companies including CSGI's wholly-owned company, joint venture company and Sino-foreign joint venture company, such as Beijing Shougang International Building Property Management Co., Ltd, Beijing Dongzhimen International Apartment Co., Ltd, Bohai International Conference Center Co., Ltd, Beijing Gaopengtiancheng Investment Management Co., Ltd. It owns and manages about 320,000 square meters of estate buildings, covering five-star hotels, 5A office buildings, foreign-service villas and apartments, which can provide conferences, catering, leisure and vacation and other business forms. With the transformation and development of Shougang Group in the new situation, and the introduction of new business philosophy, we are dedicated on the integration of the comprehensive service system by strengthening management, achieving industrial interaction and advantages complementation. We are also committed to build a solid location value advantage, and give brand value accumulation effect of CSGI into full play.
Beijing CSGI Building Property Management Co., Ltd
SHOUGANG international building is a business building with excellent hardware, which is located in northeast corner of XIZHIMEN overpass and belongs to HAIDIAN district in BEJING. The western of SHOUGANG international apartment near to BEIJING north railway station, superiority geographical location and convenient modern traffic environment of SHOUGANG international building will contribute to acquirement the greatest success for our client. The property right of apartment is clear and belongs to China SHOUGANG International Trade Engineering Co., Ltd. Our management team has abundant practical experience; furthermore, the mission of us is providing the best rent services for our client and giving our client a family feeling.
The construction area of building is more than forty thousand square meter, it contains perfect business supporting service facilities, such as multi-function hall of various specifications for business meetings, multi-media hall, bank, cafe, restaurant, staff restaurant and other services.

Beijing Dongzhimen International Apartment Co., Ltd.(East Lake Villas)
East Lake Villas is located on the main road of the east second ring road in the city, between the embassy district and the central business district. Surrounded by high-end business districts such as Sanlitun and many historical sites such as Lama Temple, you can enjoy the convenience of economy and technology and the long history of humanities at the same time.
East Lake Villas inherits the classic Suzhou garden style. The exquisite buildings in the park are scattered and chic, surrounded by green forests, and you are in the "natural oxygen bar", and you can experience the leisurely feeling of "stealing a floating half-day leisure" in the fast-paced life.
In the East Lake Villas, The koi carps play leisurely in the sparkling lake, and the winding promenade connects the antique courtyard pavilions. The landscape in the park changes with the four seasons, with flowers in spring, moon in autumn, cool breeze in summer, and snow in winter. Every moment of your stroll in the East Lakes becomes a wonderful enjoyment.
With classic garden as the center, clusters of quiet and elegant Chinese-style villas are interlaced. There are 36 villas in East Lake Villas. Detached villas have independent private gardens with good privacy; semi-detached villas are lighted on three sides, have garden territories, and have excellent apartment types; townhouses have their own courtyards and independent portals. There are also recreational facilities such as basketball courts and children's playgrounds in the villa area. They can meet various needs such as home and fitness.
Each floor of the Apartment consists of four households with a ladder, and is divided into 21 types of units. From a 51-square-meter one-bedroom apartment to a 332-square-meter four-bedroom apartment and a 493-square-meter five-bedroom apartment, it fully meets the needs of various apartment types. Residents are mostly embassies, counselors and senior executives of domestic and foreign companies. The environment is quiet and elegant, with strong privacy. The park is equipped with international kindergartens, restaurants, fitness clubs, etc., which can be used for corporate office and home life for all kinds of people, there are also large-bedroom units for multiple families to choose from.
The office building is located on the bank of the East Lake. The environment is beautiful and quiet in the East Lake Park surrounded by villas. There is a guard booth at the gate of the park to ensure smooth and private communication. There is a luxurious Chinese banquet hall with a garden of 100 square meters in the park, which can be used for public relations activities, and there are also humanized supporting facilities such as restaurants, cafes, and fitness clubs. They can provide a safe, convenient and comfortable office environment for various types of companies and representative offices.
East Lake Villas has two types of banquet halls of Chinese and Western styles. Ping Yuan Hall and Mandarin duck Hall are the characteristic Chinese banquet halls in Suzhou garden style. They have nearly 100 square meters of independent garden courtyards, with views of the lake, beautiful landscape and elegant environment. Western-style banquet halls include VIP Hall, East Lake Hall, Multi-Function Hall and Conference hall, which can accommodate meetings and events of various specifications. Both types of banquet halls can hold Chinese and Western banquets, BBQ banquets, buffets, cocktail parties and various meetings, and can provide multimedia equipment, Internet broadband access and conference service equipment.
Kang Le Fitness Center is located in the East Lake Villas Club. It not only has a fully equipped gymnasium, a temperature-controlled indoor swimming pool, and an open open-air tennis court, but also has a high-end squash court that are popular in Western countries. The advanced hardware facilities of world-class fitness brands and professional fitness coach certified by major sports associations are double blessed to escort your fitness journey.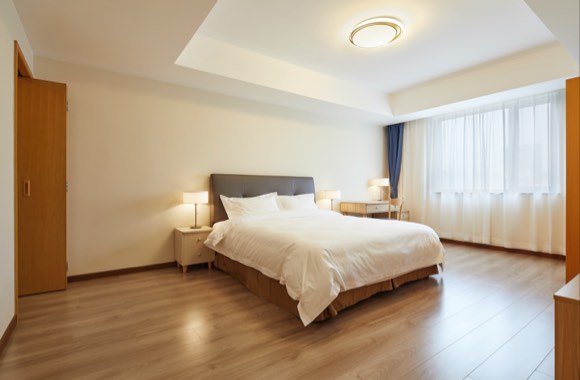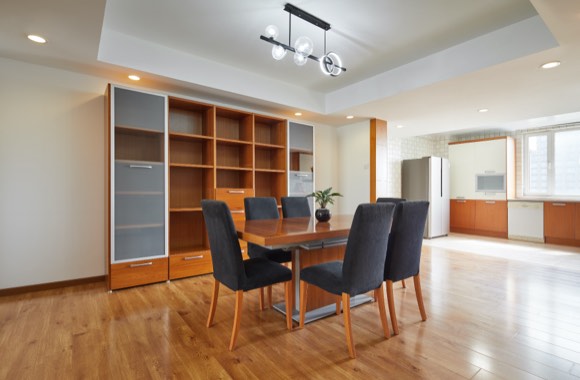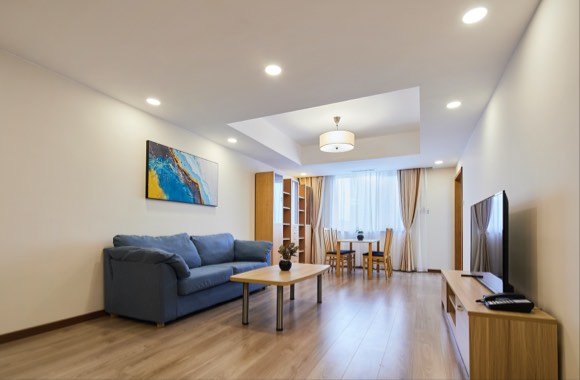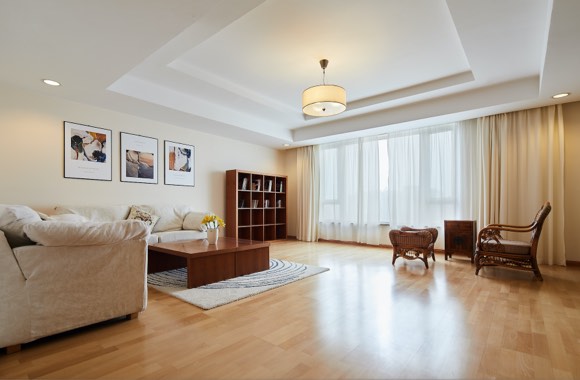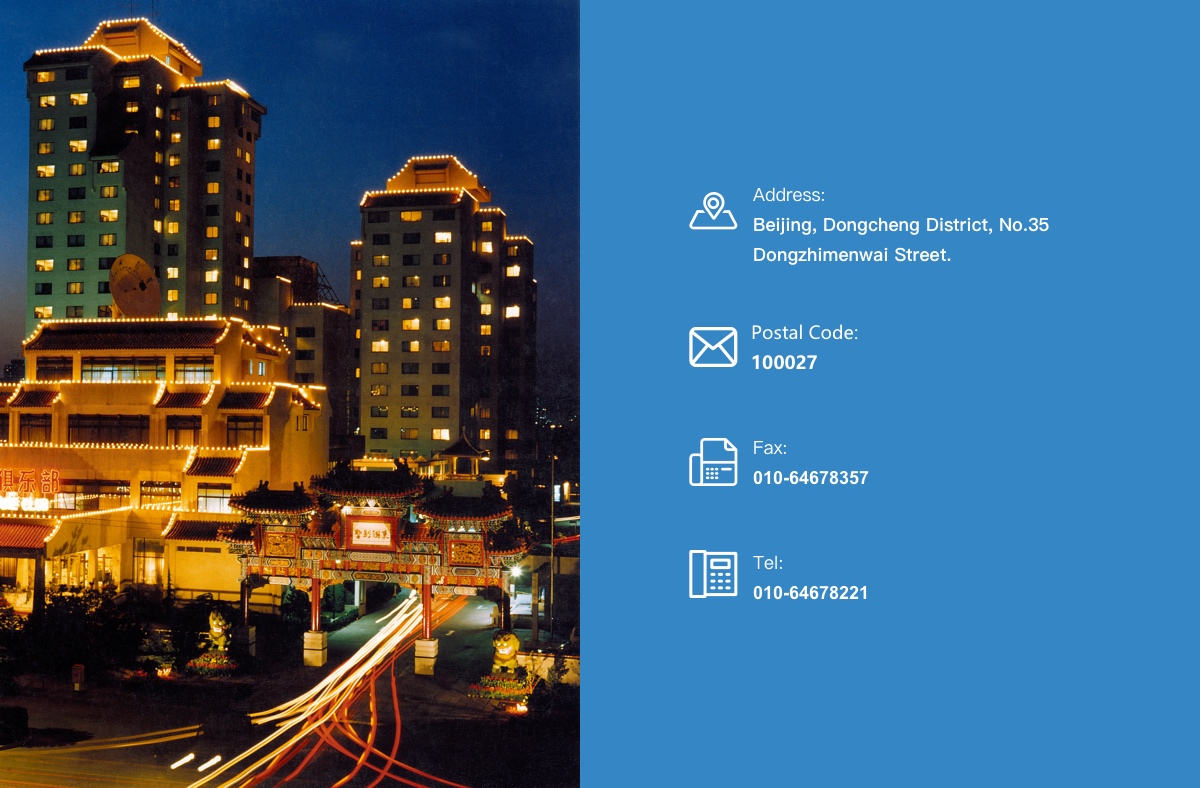 Beijing Gaopeng Tiancheng Investment Management Co., Ltd. (Crowne Plaza Beijing Zhongguancun )
Located in the heart of bustling Zhongguancun, Crowne Plaza Beijing Zhongguancun features 298 spacious rooms with high-speed internet IHG Connect, 3 dining options and indoor pool and fitness centre.
Drive from our Zhongguancun location to Beijing airport in 45 minutes, and get to downtown and the China National Convention Center in 20 minutes. Subway lines 4 and 10 are a 5-minute walk away. The hotel is also close to Peking University, Tsinghua University, Yuanmingyuan Imperial Garden and Beijing National Stadium. Nearby companies include IBM, Microsoft , Oracle and New Oriental.
Rouge Chinese Restaurant serves fine Cantonese, Anhui and Sichuan cuisines, together with a wide range of dim sum retreats. Valley Cafe offers both buffet selections and a-la-carte options. To unwind, guests can visit the Lobby Lounge.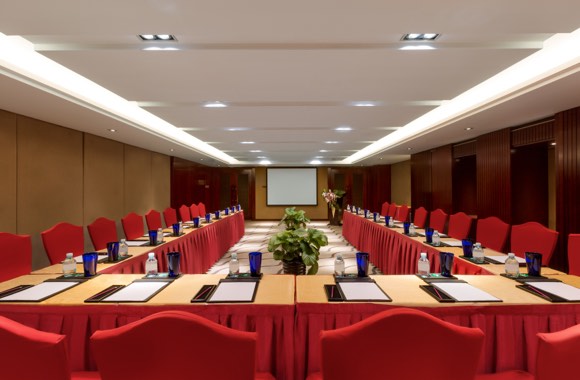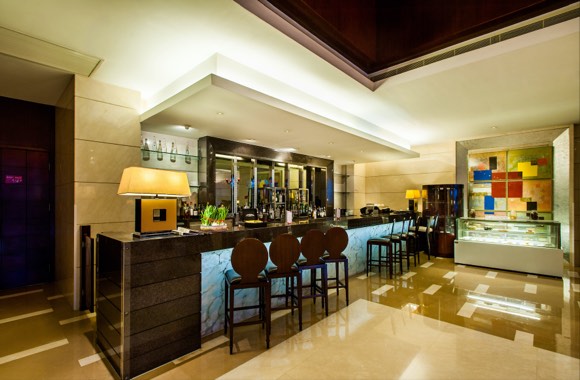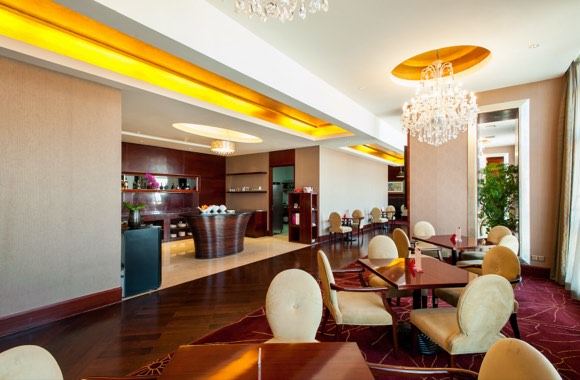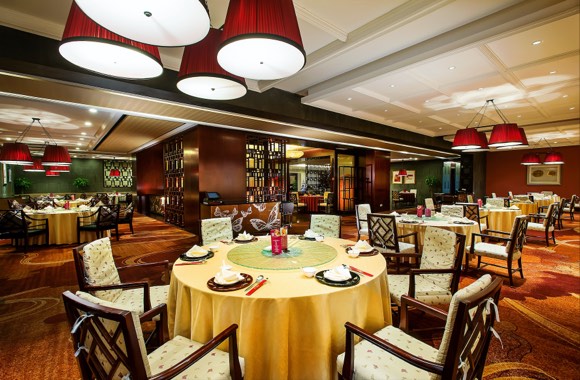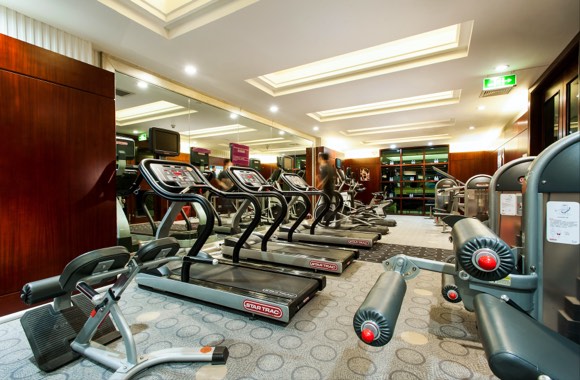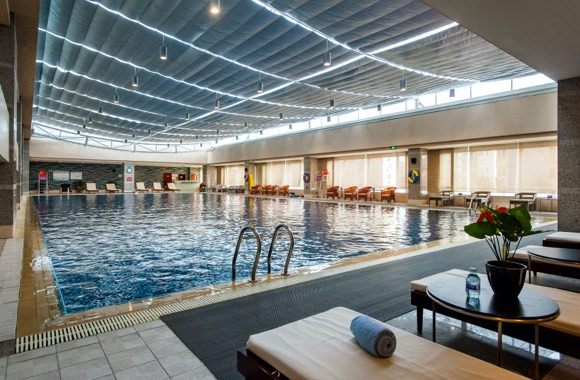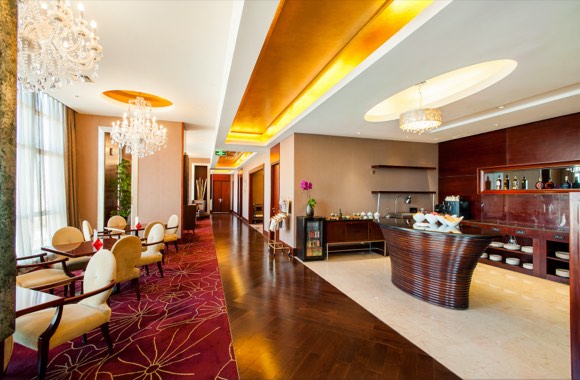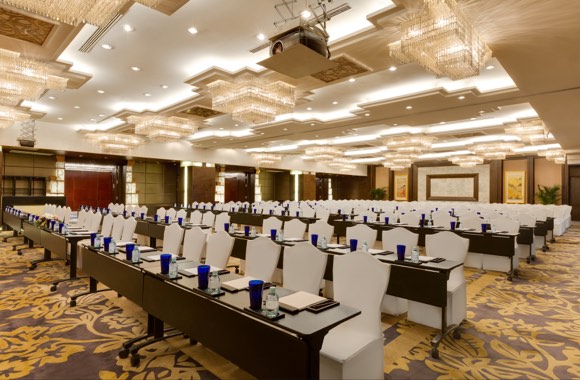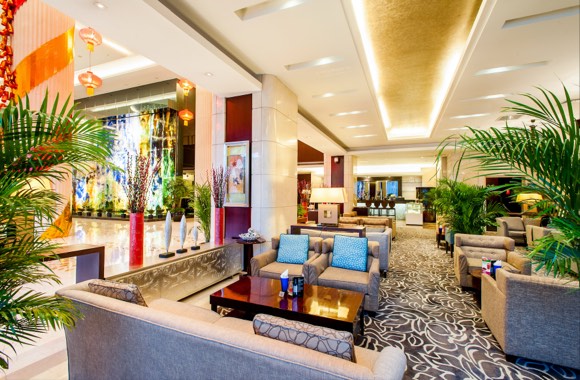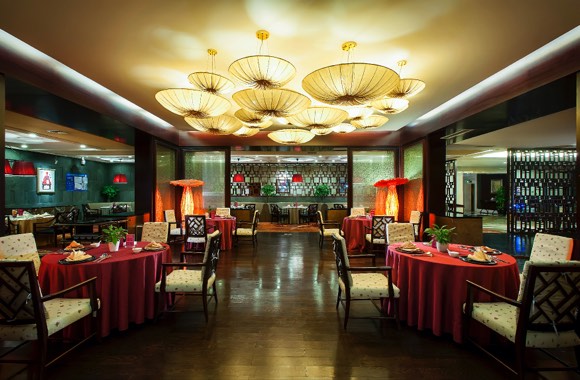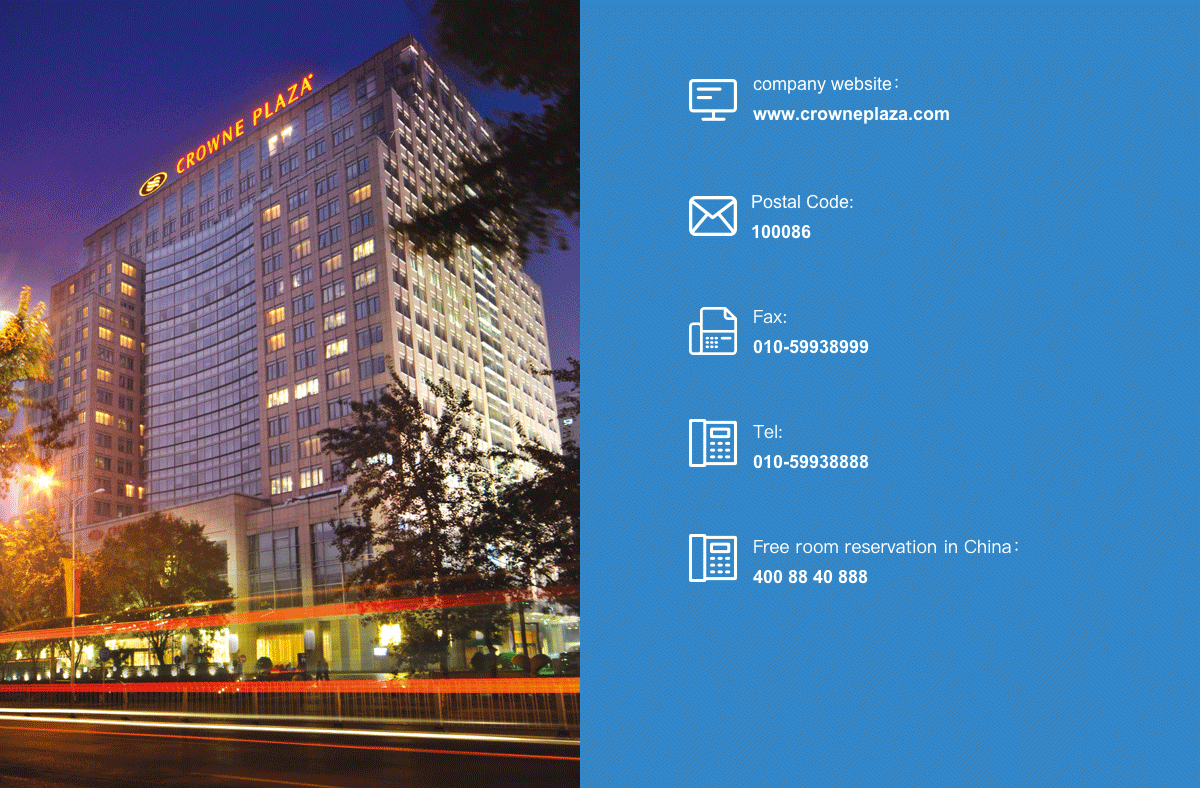 Bohai International Conference Center Co., Ltd.
Bohai International Conference Center is jointly invested by China Shougang International Trade Engineering Co., LTD and Beijing Shougang Real Estate Development Co., LTD. It is a comprehensive tourism reception place integrating conference, tourism, accommodation, business, leisure and entertainment. It is a five-star comprehensive business conference center.
Bohai International Conference Center is located in No. 9, Bohai Avenue, 7th Farm, Caofeidian District. The east is Caofei Lake and Tangcao Motorway, the west is Shuang Long River, and the south is Bohai Road. The distance from here to Beijing is 230 km, to Tianjin is 137 km, to Tangshan is 65 km, to Caofeidian is 20 km, and to the coast of Caofeidian is 24 km. With the double geographical advantage of Caofeidian industrial zone and the Bohai sea, it blends perfectly with the natural landscape of the wetland. Looking west from Shuang Long River, there are the vast natural waters, rippling reeds in blue waves, dotted fish ponds and crab pools and leisurely birds and fish, with hundreds of species of rare migratory birds coming here in late spring and early summer. You can see the beautiful wetland scenery everywhere, where "the herons fly in the morning glow, and the lake water is the same as the sky", forming a typical wetland scenery. Returning to nature, enjoying tranquility and relaxing your mood, Bohai International Conference Center is your ideal choice for leisure, vacation and conference travel.
The project covers a total area of 500 mu (33.3 hectares), with a total construction area of 120,000 square meters, including water area of 45,700 square meters, green rate of 68.5%, road square area of 40,000 square meters, ground parking area of 7,850 square meters, underground parking area of 2,040 square meters, plot ratio of 0.36, building density of 11.9%. The construction projects mainly include: Bohai International Hotel, Hot Spring Leisure Center and Sports Center, Sailor's Club, Expert Apartment Building, Villa group near the lake. The construction area of the Hotel is 62,806 square meters, the construction area of the Hot Spring Leisure Center is 10,754 square meters, and the construction area of the Sports Center is 4,862 square meters. The total investment is about 120,000 RMB.
The design concept of Bohai International Conference Center: Harmonious Landscape -- the poetic beauty of saline-alkali soil, highlighting the theme of harmonious coexistence between man and nature, giving play to the regional landscape characteristics, and making a natural garden landscape with humanity and ecology.